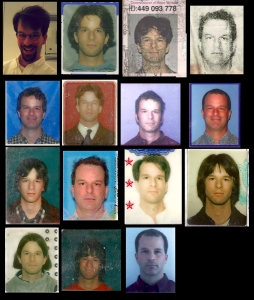 15 PORTRAITS
Matthew Burke received his BA from Colby College, in Maine, and received his MFA in Sculpture from Queens College, CUNY. He grew-up in northeastern Connecticut and spent over a decade in New York City making art and exhibiting in many venues. Before accepting a full-time position in sculpture at the University of Kansas, he taught at St. John's University in New York. He has had numerous one person shows and participated in several group shows including; PS1 MoMA in Queens, New York; the Hopper House Art Center in Nyack, New York; the Brooklyn Museum of Art in Brooklyn, New York; East Carolina University, Greenville, North Carolina. Recent exhibitions include a two-person show at the Haydon Art Center in Lincoln, Nebraska and solo shows at the Lawrence Art Center and Pittsburg State University, in Lawrence and Pittsburg, Kansas respectively, as well as a solo show at Northern Arizona University Museum in Flagstaff, Arizona.

His work is in several major museums and collections including; the Museum of Modern Art Library; the Brooklyn Museum of Art; and the Cleveland Institute of Art Library. In addition to being an artist-in-residence at the Salina Art Center, he has been the recipient of a fellowship at the Alden B. Dow Creativity Center in Midland, Michigan; a residency at the Ragdale Foundation in Lake Forest, Illinois; a residency at the Vermont Studio Center in Johnson, Vermont; as well as the Virginia Center for Creative Arts in Amherst, Virginia.

Grants include LexArts Community Development Grant, Lexington Art League Grant, Arbor Day Foundation Grant, The Ragdale Foundation, Alden B. Dow Creativity Center Grant.

Burke is an Associate Professor of Sculpture in the University of Kansas Visual Art Department. He lives in Lawrence, KS with his wife and son.