Neighborhood Pocket Libraries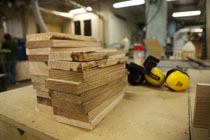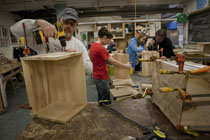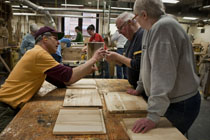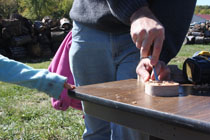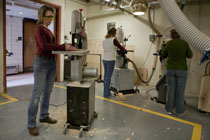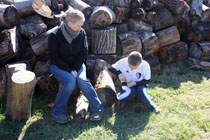 LAWRENCE –In an effort to bring books and art from walled-in institutions to sidewalks, Matthew Burke is working with the local community to build a community network of libraries that are about the size of birdhouses.
Tapping into two national trends to make reading and art accessible known as the Little Free Library Movement and the Makers Space Movement, the artist has opened the university woodshop to more than 40 members of the community. Matt Burke, a professor of visual arts and Mark Jakubauskas, a research associate professor with the Kansas Biological Survey, together spearheaded this project in late 2011 .
The pocket libraries, which will offer books on front lawns across Kansas, are being constructed with lumber from trees that once surrounded the Lawrence Public Library. The trees were removed when the library underwent an extensive renovation. Through an initiative dubbed Logs to Literature, the library was looking for ways to keep the logs in the public realm and use them to advocate reading.